It is that time of year. I try to plan early for the 14 Days of Valentines simply because effort takes a lot of planning. And it shows. Trust me, your favorite person is going to love this.
I've been pinning madly ideas I've found. Some I will show and some are private. Let's getting planning! (Sweetheart, if you are reading, please read something else.)
Day 1:
I am going to have one of the kids help me trace myself giving a great big hug. After decorating it with a lifesize photo of my head and sketching the rest (fingernail polish, wedding ring, clothing, etc) I will tap this up on the inside of his windshield to find early in the morning. Along the top of the paper will be printed "On the 1st day of Valentines - I love you THIS MUCH!"
Day 2
:
Red Velvet Crepes
for bfast (along with manly bacon). The kids will love participating in this. How cute are they? I traditionally make Swedish pancakes for Saturday morning breakfast, but they certainly have never looked like this!
Day 3
: a batch of
lemon white chocolate truffles
. They are his fave flavor from our local chocolatier. I found a recipe on Pinterest. Click link above. Along with a cute take out box full of these will be a note that says "On the 2nd day of Valentines, white chocolate to sweeten you and lemon to make you pucker. I'll be waiting for a sweet kiss when you get home from your church meetings." Lipstick seal on the envelope.
Day 4:
a photo heart of our beautiful family on his bathroom mirror with a note thanking him for our 4 beautiful children. I usually do something about the kids on this day.
Day 5:
I bought a gift cert for a local rope obstacle course for date night. Everyone who knows me knows well my fear of heights and my non-athleticism. But I figure that I can sacrifice because I know he will LOVE this! Include a note about needing 5 fingers to hang on for dear life (me) and to swing like a monkey (him).
Day 6:
Giant rice krispie treat kisses in a basket for him with a note about 6 kisses. He will share these with the kids.
Day 7:
Two movie tix and he gets to choose the movie. He rarely chooses the movie. Include a box of his fave movie candy.
Day 8:
Invitation for a date night to a bistro we've heard rave reviews about and wanted to try. Strict rule that we can't talk about kids or school or work.
Day 9:
Bucket of gummy worms and little printable
on front. I thought this was cute.
Day 10:
This day is always 10 Things I Love About You. I print it up in calligraphy font and put it on his nightstand. A few years ago I found where he had stashed EVERY SINGLE "10 things" I had written over the years. It made me teary that it meant that much to him. Each year it is original. This year I think I will find a standing frame or frame with easel to keep on his nightstand.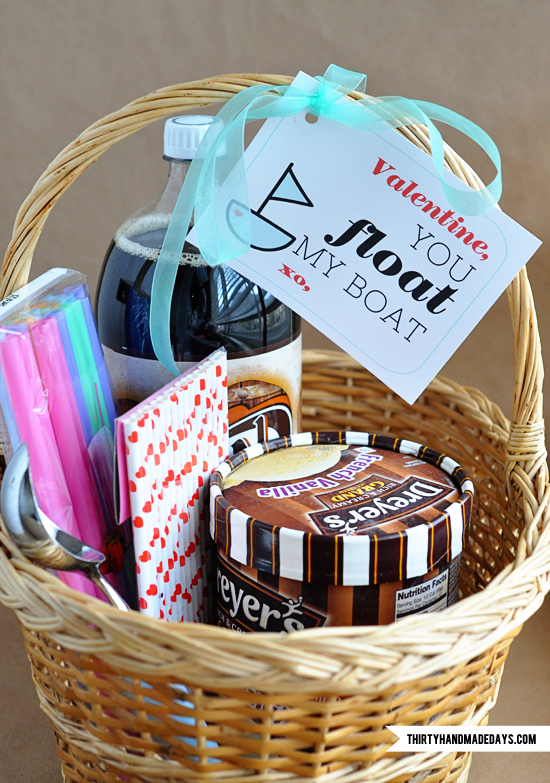 Day 11:
Since it is family night, a two-liter bottle of his favorite A&W rootbeer with a note saying he floats my boat. Double bonus, it will be treats for family night.
Day 12:
Mr. Wonderful will love this. Fake rose petals and Hersheys chocolate hugs and kisses lead the way to the bathroom for a long hot bath with a new good book and no one to bother him or ask him for anything for a good hour or two. Find entire idea and printable
here
.
Day 13:
Invitation to dinner the next night with menu. Most likely steak with all the trimmings. May be macaroni and cheese with lobster and bacon that I will copy from one of our fave restaurants. When it gets closer I will post the menu. I will give him an assignment to pick up dessert at either our fave French place, Cheesecake Factory, or just let him surprise me. I've found that having him do this makes the meal prep easier and sharing a small dessert means we don't have a ton left over.
Day 14
: Sorry, this gift is private. But utterly cool. It should take me most of the week to put together.
That is it. I'm giving myself this coming week to prep most of it. I've found if I don't, I can never put things together last minute.