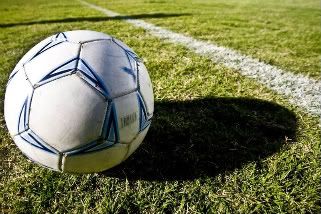 Two weeks ago during Secondborn's soccer game, there was a fight. Not between players. Not between parents. The fight was between the coaches. I didn't see the actual pushing and kicking, but I did turn around in time to see one coach chasing the other and all the dads running onto the field to break it up.

Since our soccer association has a zero violence policy, both coaches were banned from ever coaching in the league again. Because of this, the coaches two sons quit the team along with the kids whose families were close to the coach (believing that our coach was wronged.) The only kid now left on the team is Secondborn.

The league wants to move Secondborn to another team. But what kid is going to willingly give up some of his playing time so my son can play? He has no friends on this team. They have played and practiced together and are loyal to each other. Secondborn will be seen as an invader.

Today I called the league to ask for a refund. We told Secondborn that he could use the time to practice basketball until that season starts (thankfully its in another league). In the meantime, I am waiting for a call from the president of the soccer league who will most likely tell me why they won't refund our money. I understand banning the coaches and fully agree to that decision. However, it is not our fault that our son's team has dissolved. I'm really frustrated right now.

We did have a good talk with Secondborn about good sportsmanship. He actually brought up the conversation - he thought the coaches were nuts that they let their emotions get so high. "After all, Mom, its just a game. They were pretty stupid." I am so grateful that Secondborn has figured that out on his own.