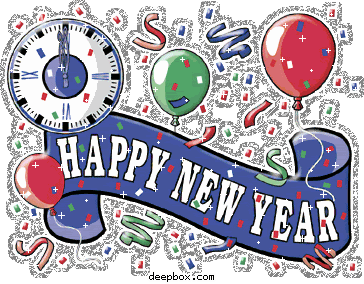 My family is not a big NYE party family. I make a yummy dinner (this year it was Seafood Lasagna and green salad) and appetizers (stuffed mushrooms, brie and crackers and smoked trout with cream cheese) and treats (marshmallow crispy treats made with Cheerios) for later in the evening. But, other than that, we don't do much.
I expected for DS#1 to have plans but even he stayed home.
DS#3, however, had different ideas about how NYE should be celebrated thanks to his school teacher and television. DS#3 thought we should have dancing and noisemakers and hats. I didn't find this out until 7:00 p.m. on NYE so the noisemakers were out as well as the hats. I turned on Dick Clark's Rockin' New Years Eve just in time for a performer that DS#3 and DD both recognized: Miley Cyrus aka ........
"HANNAH MONTANA BANANA!" (DD ran all over screaming this, she was so excited. I don't know why she added banana to the title. I think she likes the rhyming words.) DS#3 ran into the kitchen where I was just putting the mushrooms into the oven and begged me to dance with him. I wiped my hands and followed him out to the family room where the TV volume had been turned up. I started to dance with my hands in the air. (I did NOT look dorky, I am actually a pretty good dancer. At least I was when I was cool way back 20 years ago. Quit laughing!)
"No, Mom, like this!" DS#3 grabbed my hands and showed me he wanted to dance.....well, I am not quite sure what dance he was trying to do. So I taught him how to swing dance. Or, at least I tried to.
"No, honey, lets do this slower. Step. Step with your right foot to the front. Step left back. Swing your right behind you like this. No, behind you....wait....no, like..... okay lets dance your way." DS held my hands and led me in a gallop/polka/occasional karate kicks across the room. I was a little winded after the song was done, but Miley started up again which meant we started up again. Around and around and around. I was more than winded after 20 minutes of that.
Who needs a personal trainer? Dance with your 7 yr old. That'll do the trick.
After a valiant effort of staying up, eating copious amounts of marshmallow crispy treats, playing Monopoly with his brothers, and more dancing, DS#3 fell asleep promptly at 10:00. DH carried him to bed. DS didn't even lift his head, he was out like a light.
This morning DS#3 woke up sooooo disappointed that he missed the countdown. I made a fabulous Marmalade Oven French Toast for breakfast. While DS and DD ate breakfast (DS#1 and #2 were still sleeping), DS#3 asked why I wouldn't wake him up and will they do it again tonight so he can try to stay up for it? DD agreed, she wanted another party. Maybe I should take advantage of NYE hats and noisemakers being on clearance tomorrow and throw an impromptu gala bash just for them?
Here is the fabulous breakfast we had today:
Marmalade French Toast Casserole
Grapefruit or mixed fruit marmalade will work just as well as the orange marmalade called for in the recipe. Serve the casserole with honey or pancake syrup warmed with orange rind and a splash of orange juice (add one teaspoon rind and two tablespoons juice per 1/2 cup syrup). This easy casserole can be assembled in less than 15 minutes and stored in the refrigerator overnight.
3 tablespoons butter, softened
1 (16-ounce) sourdough French bread loaf, cut into 24 (1/2-inch) slices
Cooking spray
1 (12-ounce) jar orange marmalade
2 3/4 cups 1% low-fat milk
1/3 cup sugar
1 teaspoon vanilla extract
1/4 teaspoon ground nutmeg
6 large eggs
1/3 cup finely chopped walnuts
Spread softened butter on one side of each bread slice. Arrange 12 bread slices, buttered side down, slightly overlapping in a single layer in a 13 x 9-inch baking dish coated with cooking spray. Spread marmalade evenly over bread; top with remaining 12 bread slices, buttered side up.
Combine milk and next 4 ingredients (through eggs), stirring with a whisk. Pour egg mixture over bread. Cover and refrigerate 8 hours or overnight.
Preheat oven to 350°.
Sprinkle casserole with walnuts. Bake at 350° for 45 minutes or until golden. Let stand 5 minutes before serving.
Yield: 12 servings (serving size: 1 piece)CALORIES 293 (28% from fat); FAT 9g (sat 3.2g,mono 2.2g,poly 2.3g); PROTEIN 9.1g; CHOLESTEROL 116mg; CALCIUM 132mg; SODIUM 315mg; FIBER 1.6g; IRON 2.2mg; CARBOHYDRATE 46.4g Cooking Light, NOVEMBER 2006