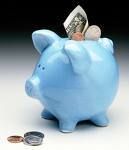 Has the news of wheat and rice shortages made anyone else a little antsy (although it doesn't look like a true shortage but instead the news media getting melodramatic)? What about middle class families with jobs having to go to food banks because the price of food is getting higher? Those stories have been all over the news. I saw one a few weeks ago of a woman who makes $70K a year having to go to the food bank. She also asked her mom to move in to help pay for utilities.
I am chomping at the bit to get my food storage shelves built in the garage so I can reorganize my food storage and catch up on the wheat (we had to throw out most of if when we moved b/c someone poked holes in all of the bags with a screwdriver). Unfortunately, with DD's surgery coming up and all the things I need to take care of before then, I don't have time to build shelves or my square foot garden.
I am pulling out my
wheat grinder
and
Bosch mixer
so I can start making bread again.
I've started researching homemade cleaners (laundry, kitchen, windows, bath, etc) since I've read articles about families who save money that way.
I am a couponer. My best savings was $140 worth of groceries for $35. I wish I could save like that more often. But coupons do help. I don't buy much by way of prepackaged food items but I do save quite a bit on soup, baking, cleaning, and personal items.
I do my Christmas and birthday shopping throughout the year when I find great sales. My latest score happened yesterday whenI found mini bottles of men's colognes (Obsession, CK One, Nautica, etc.) marked down 50% to $6 at Target. Those will be stocking stuffers for Mr. Wonderful and the older boys. A few month ago I was able to buy BYU hoodies for the same three guys in my life at 50% off at
Deseret Book
.
Pinching Your Pennies
is a great resource for internet sales. Sign up for their email alerts. They also find great clothing sales for kids.
One thing I have already started is a collection of recipes for inexpensive meals. I lost most of the record when my computer had to be redone, but I remember what recipes they were so I need to download them onto my MasterCook software and keep going. That, at least, is something I can do.
I'm always looking for more recipes. What do you have by way of inexpensive meal plans? What do you have in your food storage you know your family will eat?
What do you do to save money?