Newsflash - Woman Drowns in Garden Produce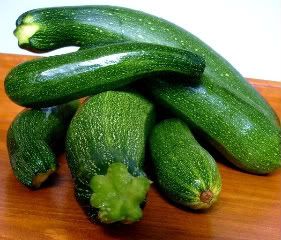 Due to an overabundance of zucchini at my house (am I the only one?), I am fiddling (or should I say zuking?) in the kitchen. I'm looking for something beyond zucchini bread (which I have never had good success in baking.) Instead, how about these recipes:
Chocolate Zucchini Brownies (using pureed zukes and healthier ingredients w/out tasting zucchini-ish)
Zucchini Latkes (I think my mom used to make something similar)
Crispy Zucchini Coins (with warm thoughts of Deb who cued me in to the recipe)
Zucchini pesto ( a long shot, I know. We'll see......)
Zucchini pineapple muffins (for healthy lunchboxes. That will be another post..)
If these work then I will be freezing batches of pureed and shredded zukes. I hope I have enough freezer room. Who knew I could put zukes in my food storage?
If you have a fabulous zuke recipe, send it over to me. Hurry please. I'm drowning in zucchini.