Is anyone else feeling bombarded lately?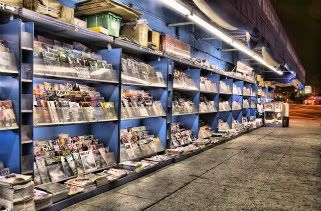 I'm talking about all the self-help books that claim they can turn my life around. The home decorating shows that imply my style won't be complete without the most high-tech home theater or professional-chef kitchen. The weight loss ads that promise readers that they can lose 30 lbs in 30 days (they can prove it, they have testimonials and REAL doctors!) Make your fortune on Ebay. Try our quiz to see how you rate. Drive this car. You're-not-a-good-mom-unless-you-feed/clothe/buy/teach-your children this way.
When did it become so difficult to be happy with what you have? Its hard enough keeping up with four kids who are allowed one activity each, do they really need more? Am I such a bad mom for not buying only organic food for my family? Do I really need to love myself and my planet more in order to find my true purpose in life?
What on earth is wrong with laugh lines? Why would I want to Botox them away?
In case you were wondering what started all of this............I made the mistake of standing in front of a wall of magazines at a local store. Most of the headliners were annoying. I'm tired of mags telling me I need to change. What about celebrating who I am: the average mom trying to do the best I can with what God has given me.
Speak up. Leave a comment. Does any of this bug you?